Recent Articles
Search Articles
Tip Us

Is there a specific topic or issue you would like us to cover in one of our future pieces? Let us know! Use our Contact Form (choose "Rocketbuzz") to send us a request, question or comment.

1
U-KISS on Strong Heart - Mockery or Heartfelt?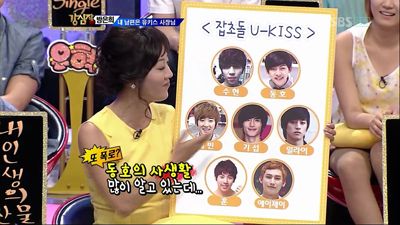 Following U-Kiss' surprise appearance on the episode of Strong Heart aired on July 3rd, KissMe turned to Twitter, Tumblr and even allkpop forums to react.
Why did it cause such a stir? What was it about the segment, the discussion and the appearance that struck a nerve with KissMe?
The segment featured Bang Eun Hee, wife of Kim Nam Hee, CEO of NH Media, talking about her love of U-KISS. U-KISS then appeared and they had a brief talk segment, followed by a gag and then a short performance.
(
You can watch the clip here with English subs
)
I think it's important that Bang Eun Hee mentions that she doesn't like idols groups and doesn't support any idol groups. They don't appeal to her musically, and their dancing and glossy appearances aren't attractive to her. Despite U-KISS' wonderful appearance and reasonable dancing ability, that's not why she loves them so much and it's not why she was drawn to them and stays devoted to them. She got to know them through her husband and through the company, she would see them coming in to practise every day and see them being briefed about their hectic schedules. She witnessed the hard work they put into everything and the time they dedicate to their work and I think she admired this. Not only did she see their devotion but she also saw the love they had for their jobs and the people with whom they work. She laughed with them and talked with them openly and happily, getting to know them as people rather than as celebrities for, as she said herself, she was a senior of theirs in terms of celebrity. She grew fond of them as hard-working, honest young men who knew how to have fun and got along really well with each other and with the people in their workplaces.
As she grew closer to the boys, she would play closer attention to their album releases to support them, knowing the good men that were behind the release. She would go to performances and watch the effort and power they put into each dance, even though she knew they were fatigued, and always with a smile on their faces. This made watching their album chart poorly so much harder because she knew how good-natured, kind and sincere these boys were and how much they deserved to be admired. Through following their activities more closely, and paying more attention to each of the members and the people that U-KISS are she came to love them dearly as people and as artists, supporting them with all her heart and promoting them whenever she can.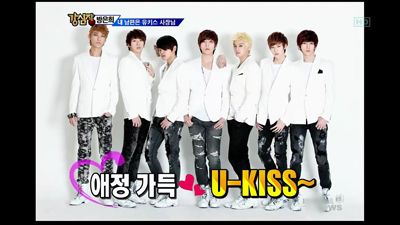 I talk about Bang Eun Hee so thoroughly because I think her experience with U-KISS almost mirrors that of many fans, though obviously she has a little more direct contact with the boys. But what I mean is that a person become a dedicated KissMe
when they discover the people behind the boyband and see what U-KISS are really like
, in my fandom experience anyway. People like the songs and enjoy the performances but it's once they get an idea of what U-KISS are really like amongst themselves, or how they get along with each other and their staff that people are really really drawn to them in a big way. I've found that once people experience a U-KISS comeback after falling for each of the people in the group, they cement themselves as fans and feel the same love Bang Eun Hee feels for them.
Because Bang Eun Hee loves U-KISS in a really similar way to the way I do and she has such good standing in Korea as a celebrity I feel like her words are really important. She's acting as a loving spokesperson for our fandom and people actually listen to her and take her seriously, where they might not take a fangirl seriously. Through her mature, genuine devotion to U-KISS, I think people are more likely to understand why U-KISS have such a strong yet small following even after many unsuccessful comebacks. Her words likely opened people's eyes to the side of U-KISS that is truly cherish by their fans and staff alike and
I think her segment is really important for U-KISS' image and overall a great thing for them
.
It wasn't Bang Eun Hee's talk segment that caused issue though, but rather the joke made during U-KISS' actual appearance. Bang Eun Hee had mentioned how it pained her that because of unfortunate circumstances and her husband's small company, U-KISS had never been able to achieve a number one and how it upset her and her husband greatly because they sympathise with the boys. I think it's important that this came as a surprise to some of the guests on Strong Heart, who thought U-KISS must have at least won once for Man Man Ha Ni. When U-KISS made their surprise appearance and had a cuddly reunion with Bang Eun Hee, they engaged in some natural conversation with funny exchanges. All the guests seemed to enjoy U-KISS' humour and Dongho was really comfortable.
These are all good things.
KissMe bristled when talk turned to how U-KISS have never received first place on a music show, and the trouble really started when Leeteuk suggested they hold a mock Music Show on Strong Heart, so U-KISS can practise winning and the speech they'll give, so they'll be more prepared when they do actually win.
This was the problem and this is what offended KissMe. Focusing on that one thing that seemed to become the centre of our entire fandom experience in recent years, highlighting to all the guests and all the viewers that U-KISS aren't a number one kind of idol group and they have never been able to get that first place they so desire. As they said on the show, it is their dream.
What we need to ask ourselves, as fans, is
why this is such an issue and why it struck a nerve with so many KissMe
. Is the problem that we consider this a point of shame for U-KISS, and that we work really hard every comeback so they can hold their head up with pride amongst their peers and show that they are "good enough" and they are a talented, professional idol group? Were the hosts making U-KISS out to be the laughing stock of the entertainment industry, a pathetic group that's been around for so long and yet still hasn't got enough fans or talent to get a number one?
It seemed to affect KissMe because they could see some members of U-KISS get genuinely a little bit teary, actually imagining what it would be like to win. And of course we saw Bang Eun Hee tearing up, along with some of the other guests on the show. To those that know U-KISS well, they knew and realised what a big deal the win would be for them and they realised the significance it would hold for the boys, and even though it was a joke they got caught up with their emotions.
With an overall knowledge of U-KISS and the desperate atmosphere that can be felt in the fandom around comeback times striving ever harder for that elusive win, the joke can be viewed as slightly hurtful and mocking in the deepest most offensive sense. It undermines all the sincere efforts we make for U-KISS and all the promotion efforts they put in themselves. It shows to everyone that U-KISS actually achieving a win is something of a joke in itself. It wrings out for the kpop world to see that U-KISS are a sub-par group, where the chance of placing first on a music show is laughable.
That is why KissMe quivered with indignation and why they felt cut deeply and maliciously. To us, U-KISS and their chart positions are a really touchy topic but I think many KissMe don't consider that it's not an issue for other people and that no one really knows about our KissMe desperation for a win. It's for this reason that
I think Strong Heart aren't at fault here, I think it's us
. Strong Heart just wanted to give U-KISS some airtime and help them promote themselves, making a joke that would get them attention and be funny. They didn't set out to undermine U-KISS and they didn't intend to make them seem talentless. That's how it looked to me anyway.
KissMe that were hurt by the joke and the treatment of U-KISS seem to be ignoring the big positives about U-KISS' appearance, and there are reams of positives. Strong Heart is a hugely popular show with esteemed guests on which U-KISS has never appeared (except for Dongho. Go you!) and having a group appearance and a sizable segment is a brilliant thing for their reputation and their popularity. The problem people have with this is that their only big appearance is one making crucial fun of them and their one time on the show is one where they are made a laughing stock. What we have to do is look at it from the perspective of the kind of people like
Shin Dongyup
, who I feel represents a lot of the viewers, who was
surprised that U-KISS had never got first place and didn't think it was an issue at all
. This joke wasn't intended to hurt U-KISS or their fans; it was simply intended to give U-KISS some airtime to showcase their humour and appeal.
The gag about winning wasn't to show that U-KISS couldn't win, but rather to show how overjoyed everyone will be when, not if, they do win. It was a celebration of their future win, rather than a signpost of the absence of a previous win. To a viewer not sensitive to the winning issue, the joke about the fake win was only a very small part of the segment; most of the segment was Bang Eun Hee praising U-KISS and talking at length about how she truly adores them, then U-KISS appeared and seemed funny and natural and like great guests. Bang Eun Hee is a respected senior in the Korean entertainment industry and her genuine words of praise are powerful and significant. This long and overall positive segment about U-KISS is a really important and influential thing.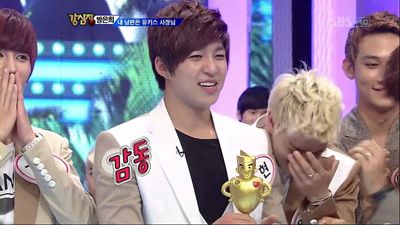 We need to look at the constructive benefits this has for the boys and for the fanclub. Guests and viewers of Strong Heart have Bang Eun Hee as a window into the heart of a genuine fan, and we are more likely to be taken seriously when people have an almost personal connection with us; when we're seen as loving, caring people rather than a singular group of screaming teenage girls. When people listen to Bang Eun Hee and really understand what she has to say about U-KISS and why she loves them, they open themselves up to loving and supporting U-KISS and helping them to achieve that win that they now know U-KISS desire.
The appearance of the boys and their happy wordplay and interaction with their seniors helped to cement them in the hearts of the viewers and the guests, and I think we need to see that this is not something about which we should be offended and this is not a negative thing for U-KISS on the whole. We should never oppose appearances like this, and we should always question why something bothers us because often it's not something that will transfer to other kpop fans, or the general viewership. We need to remember that almost all press is good press and it's great that people are talking about U-KISS and keeping them in their minds.
I'm not entirely sure on this, I'm just trying to pull my thought together on the subject. It's complicated because we need to draw the line where things are fandom specific issues or general issues. I think it's important that we talk about these things as fans and share our opinions on topics like these. How did you react to the Strong Heart appearance? Why do you think you felt like that? How did you feel about other fans' reactions? These are the kind of things we should all talk about, because there's no definite answers to any of these kinds of questions, and there isn't one correct way to think about this, it's just how I'm making sense of it all.
Article: U-KISS on Strong Heart - Mockery or Heartfelt?